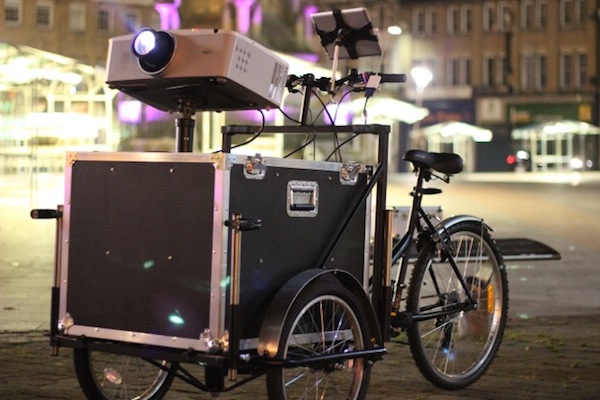 From the wonderful folks at Urban Projections comes this lovely project using Tagtool, Arena and a cargo bike. What's not to love?
The Light Cycle.
The Light Cycle is a bike with personality. Housing a high power, 6000 ansi lumen projector, sound system, ipad and battery pack, it is a fully mobile, street art device. It aims to provide an innovative means for taking digital art into public spaces and out onto the streets.
Created by Urban Projections, the Light Cycle has been used to illuminate streets with colourful digital artwork and animation. The company have been working with young people from various towns and cities, to breathe life back into disused areas, through interactive projection workshops.
"Our aim is to use innovative methods to bring art into public spaces and onto the streets. We love the fact that we can transform unused spaces into places of temporary beauty. It's always great to see the reactions of unsuspecting passers-by" – Bec Smith, Creative Director, Urban Projections.
The system runs from battery, with a flexible life span of between one to three hours. It can also run directly from mains electricity for the more permanent positions. Artwork is created though a live drawing and animating application on the ipad called Tagtool. A Macbook Pro runs Resolume Arena for more complex visual setups.
"We've designed the bike with precision in mind, so that we can also execute mobile mapping projects. The projector has a fully adjustable, tilt and pan mount, as well as four leveling feet around the bike, so that we can ensure stability and accuracy".
The light cycle was created by Urban Projections and was funded by Nottinghamshire County Councils 'Nottinghamshire Arts Fund'. It's journey can be followed on it's blog: http://www.thelightcycle.com.
The light cycle is available for hire and involvement with creative projects, contact Bec@urbanprojections.com
Urban Projections are an arts organisation based in Mansfield, but whose work spans across the U.K and Europe. They provide innovative performance opportunities, workshops and creative projects to organisations, companies and brands. Their previous work includes collaborations with the BBC, Vauxhall, The Saatchi Gallery and The British Red Cross.
Source: Resolume Blog